If asked I'd say I was a strong individual (goodness only knows I've had to be) but every now and again I find myself having what I think of as a bit of a wobbly during which time poor Mr T suffers tears and tantrums.
Suffering with vertigo (again) and tinnitus what I hadn't expected was a hospital visit to result in my being told
my inner ear had been damaged leading to hearing loss which requires hearing aids. Sooooo .......
Feeling in need of a cuddle and bearing in mind the principle that what we give comes back to us threefold I'd like to give each and everyone of you ......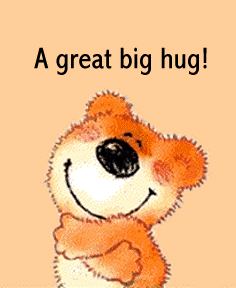 And just in case that doesn't work, how about this .......
I know it made me smile.
Copyright: Tracy Terry @ Pen and Paper. All original content on
http://pettywitter.blogspot.co.uk/
is created by the website owner, including but not limited to text, design, code, images, photographs and videos are considered to be the Intellectual Property of the website owner, whether copyrighted or not, and are protected by DMCA Protection Services using the Digital Millennium Copyright Act Title 17 Chapter 512 (c)(3). Reproduction or re-publication of this content is prohibited without permission.
In addition I would also urge that if you are reading this on any other page you contact the original blog owner/reviewer.