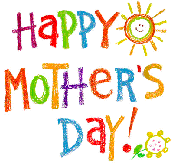 It's the stuff we don't say.
The small hand finding the big one.
Not many of us say 'it' to our Mums.
We dutifully phone them every week.
We remember their birthdays.
We care about them - but we don't actually tell them.
It's just something of a given.
A glue that holds the world together.
But today we come out with it.
We tell our Mum how good she is.
We say 'I love you' without putting on a comedy accent.
It's the day of crinkly petrol station flowers, and last minute phone calls.
Homemade cards, chocolates and luke-warm tea from six year olds.
It's the day we tell her that we care.
That we know how much she's done for us.
And that she can finish our sentences - just this once.
But when this is all over.
When the Sunday becomes the Monday.
When the carnations droop and only coffee creams remain.
Our mums will still be there.
Waiting. Listening. Helping.
With hands that hold it all together.
Shouldn't every day be Mother's Day?