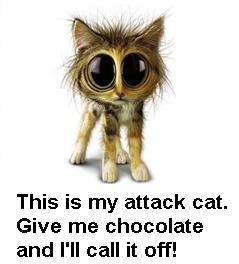 Given this graphic I don't suppose it will come as any surprise to learn that I looovvveee chocolate.
I married a Terry because of chocolate (Terry's is a popular brand here in the UK). OK, so that's a fib but its no lie that chocolate was the reason I researched my family tree.
Don't believe me? Read
HERE
. AND both one of the happiest and saddest events in my life comes down to ..... yeah, you guessed, chocolate.
Goodness the day we discovered that you could no longer buy a box of Hazelnut Whirls, that they were only available as one of many other flavours in a box/tin of ROSES, is burned in my memory along with such tragedies as the death of Elvis. Family and friends search for a box of the elusive chocolate and nut confectionery like a military campaign but alas to no avail.
Then there was the day my good friend Ruth took me to CADBURY WORLD. A great day out and my goodness the smell of chocolate
but Willy Wonka's it wasn't and, oh, the disappointment at getting to the end of the tour and finding that I wasn't going to be given the keys to a chocolate factory after all. But then on the plus side there was the shop afterwards where all kinds of Cadbury goodies could be bought at cost price.
But I digress ..
Recently a momentous life change occurred. No, Of course I didn't wake up to discover I no longer liked chocolate. That would be like saying I'd suddenly discovered I no longer loved books, that I actually liked coffee, that I wasn't allergic to celery.
Mr Terry discovered that an

American Candy store

had opened right here in Newcastle. Ooh! The sheer excitement of it all. To think that a whole new world had opened up to me, a world that I'd previously only heard talk of/seen on the tv. A world involving the likes of Peanut Butter M&M's, the even more yummy Mint M&M's and Tootsie Rolls.
Which brings me to my request to all my fellow American bloggers ..
Which candy do you suggest I try?
Over on FaceBook Traci from A STAR IN MY OWN UNIVERSE has suggested Vanilla Tootsie Rolls, Baby Ruths, Red Hots, Hot Tamales. But what about you ..
What are your favourites?
What's that?
You aren't American?
Not to worry. I'd still like to know ..
Which chocolates leave you wanting more.
My current favourites, though only as a special treat such as birthdays and Christmas, are English Rose and Violet Creams from CHARBONNEL ET WALKER (I only mention this in case someone from the company happens across this post and wants me to eat review their products.)
Copyright: Tracy Terry @ Pen and Paper. All original content on
http://pettywitter.blogspot.co.uk/
is created by the website owner, including but not limited to text, design, code, images, photographs and videos are considered to be the Intellectual Property of the website owner, whether copyrighted or not, and are protected by DMCA Protection Services using the Digital Millennium Copyright Act Title 17 Chapter 512 (c)(3). Reproduction or re-publication of this content is prohibited without permission.
In addition I would also urge that if you are reading this on any other page you contact the original blog owner/reviewer.