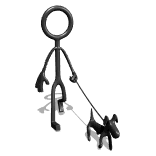 First seen on FaceBook I can't begin to tell you how much fun I'm having with
THIS
.

And talking of FB .....
I'm becoming seriously addicted to those quizzes/Know Your Personality type 'tests' that keep appearing. Why, in the last few weeks alone I've learnt ......
And then in a truly shocking discovery I learnt ......
I have a female brain. TAKE TEST to discover the sex of your brain.
Here's hoping you can access all the links. Be sure to let us know what you thought of the Stickman and what your test results say about you.
Please note
All original content on
http://pettywitter.blogspot.co.uk/
is created by the website owner, including but not limited to text, design, code, images, photographs and videos are considered to be the Intellectual Property of the website owner, whether copyrighted or not, and are protected by DMCA Protection Services using the Digital Millennium Copyright Act Title 17 Chapter 512 (c)(3). Reproduction or re-publication of this content is prohibited without permission.
In addition I would also urge that if you are reading this on any other page you contact the original blog owner/reviewer.