Ah the story of Little Red Riding Hood (aka Little Red Cap), her grandmother and the big bad wolf who is rather partial to eating little girls though whether he prefers them
rare, medium or well done is up for debate.
I don't know about you but this was one of my favourite childhood stories.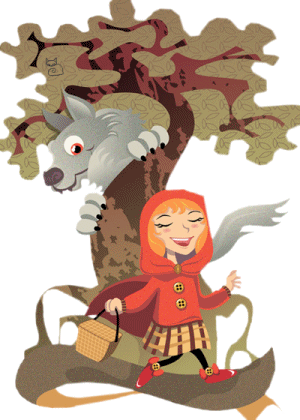 Long believed to be French in origin, the story known
as
Le Petit Chaperon Rouge
was first published as part of an anthology by
Charles Perrault in 1697 and then in the nineteenth century by others including the 'Brothers Grimm (a version of which can be read HERE), Andrew Lang (The True History Of Little Goldenhood) and James N. Barker (a 1000 word story that was later printed in a collection of stories called the
Cyclopedia of Wit and Humor.
Well known across all of Europe. The theme of the 'wolf' and of the creature (in this instance 'grandma') emerging from its belly is reflected in many other stories ('Peter And The Wolf', 'The Wolf And The Seven Young Kids' and Jim C. Hines's 'The Red Path' included) and may well be as old as the biblical story of Jonah And The Whale.
Indeed research and
phylogenetic analysis - a technique normally reserved for biologists examining the relationships between organisms -
conducted by scientists at the Durham of University concluded that although there are dozens of versions of the story they all come from a common source .....
'Rather like a biologist showing that humans and apes share a common ancestor but have evolved into distinct species'
-
Dr Jamie Tehrani (Anthropologist)
But what of these other versions, these 'distinct species?
Well ......
Whilst in Europe the story features a wolf, the Chinese version features a tiger, others an ogre or a bzou (werewolf)

In Iran where it is considered strange for a young girl to roam alone 'Red Riding Hood' is a boy

Some versions have a lumberjack come to the rescue whilst other versions have it that it is a hunter

Some more sanitised versions see Grandma locked in a cupboard instead of being eaten, whilst others have Red Riding Hood saved by the huntsman before she is devoured, and yet others see her escapes after asking to use the toilet

Depending on the translation Red Riding Hood is delivering

grape juice and banana bread, or wine and cake to her grandmother.
To read the full paper,
Science on the trail of The Wolf and Little Red Riding Hood, in which the origins of the story are discussed click HERE.
Please note
All original content on
http://pettywitter.blogspot.co.uk/
is created by the website owner, including but not limited to text, design, code, images, photographs and videos are considered to be the Intellectual Property of the website owner, whether copyrighted or not, and are protected by DMCA Protection Services using the Digital Millennium Copyright Act Title 17 Chapter 512 (c)(3). Reproduction or re-publication of this content is prohibited without permission.
In addition I would also urge that if you are reading this on any other page you contact the original blog owner/reviewer.