What do you call a line of rabbits walking backwards?
Why isn't a rabbits nose twelve inches long?
-Because then it would be a foot.
What do you call a rabbit that lives at the North Pole?
Why did the Easter bunny fire the duck?
- Because he kept quacking all the eggs.

Do you know how to find the Easter Bunny if he's lost?
- Make a noise like a carrot, he'll find you.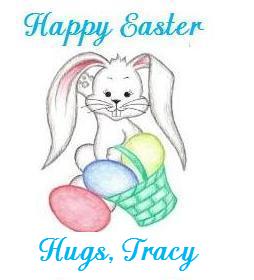 PS Seeing as it is Easter Sunday and there won't be a Monday Media post tomorrow I just had to slip in this one article.
SPEND THE NIGHT IN A CHOCOLATE FACTORY. A chocolate shop in Yorkshire is offering sweet-toothed travellers the opportunity to spend the night in their factory during Easter.
The "chocolate suite" – on offer from the 2nd until today, the 8th of April
-courtesy of the Little Chocolate Shop in Leyburn – features edible furnishings, a chocolate fountain and a fancy dress box filled with Wonka-esque accessories, aprons and toques.
Guests will be free to watch chocolate being made in the factory, before ending their stay with a chocolate breakfast.
However, they are advised to be out of bed by 10am, when the factory begins accepting visitors on regular tours. The chocolate furnishings, which include plants and ornaments, are restocked each day
.

- The Telegraph (April 2012)