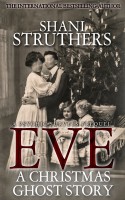 .... Looks good, right? Certainly something different for the Christmas Spirit Challenge, don't you think? Alas, sadly for me, its only available in digital format .. at the moment, though I am informed that it could well be available in time for Christmas or just after.
Delighted to have taken part in the on-line launch party of Eve: A Christmas Ghost Story, I'm pleased to welcome its author Shani Struthers to Pen and Paper.
One moment please.
What's that?
How's that for timing? I've just been informed that as of today Shani's novel is available in paperback.
Great news.
Take it way Shani, its over to you ...
Thank you for hosting me on your blog, Tracy! My new book, Eve: A Christmas Ghost Story launched on the 24th November on Amazon and is the prequel to the best-selling Psychic Surveys series. A short novel, it's intended as a fireside read over two to three nights and is more paranormal in tone than horror.
Featuring two of the Psychic Surveys team – Theo Lawson and Vanessa Patterson – it's set between 1899 and 1999 and is loosely inspired by a true event: a tragedy that took place in the mining town of Calumet, Michigan in 1913. I've changed the setting and heavily fictionalised it (of course) but whenever dealing with events inspired by actuality you have to tread carefully. It's important to avoid any gratuitousness and to have sympathy for all involved at all times – to essentially understand , which is what Theo and Ness try to do, and I mean understand both sides, the good and the seemingly evil.
Currently on sale for 99p to celebrate it's sister book, Psychic Surveys Book One: The Haunting of Highdown Hall recently getting to No.1 in the UK, USA, Canada and Australia. It's already getting some great reviews with readers describing it as the 'perfect festive read'. Hope you enjoy reading it!
<<< EVE: A CHRISTMAS GHOST STORY BOOK BLURB >>>
What do you do when a whole town is haunted?
In 1899, in the North Yorkshire market town of Thorpe Morton, a tragedy occurred; 59 people died at the market hall whilst celebrating Christmas Eve, many of them children. One hundred years on and the spirits of the deceased are restless still, 'haunting' the community, refusing to let them forget.
In 1999, psychic investigators Theo Lawson and Ness Patterson are called into help, sensing immediately on arrival how weighed down the town is. Quickly they discover there's no safe haven. The past taints everything.
Hurtling towards the anniversary as well as a new millennium, their aim is to move the spirits on, to cleanse the atmosphere so everyone – the living and the dead – can start again. But the spirits prove resistant and soon Theo and Ness are caught up in battle, fighting against something that knows their deepest fears and can twist them in the most dangerous of ways.
They'll need all their courage to succeed and the help of a little girl too – a spirit who didn't die at the hall, who shouldn't even be there…
<<< EVE: A CHRISTMAS GHOST STORY EXCERPT >>>
As Theo turned round to face the double doors, she had a feeling that someone - something - was rushing at her, as fleetingly as whatever had been in Adelaide's house. Refusing to let fear get a stranglehold, she turned back, her aim to confront it. A black wisp of a shape, like wood smoke, side swiped her, before fading into nothing. Staring after it, wondering what it was, something else caught her attention. At the far end of the second room was something more substantial: a little girl, staring at her.
Theo's eyes widened. "Oh darling, darling," she whispered. She took a step forwards, tried to remember the names of the children on the list from earlier: Alice, Helen, Bessie, Adelaide's ancestor, Ellen Corsby perhaps. Which one was she?
She inched closer still. "Darling, your name, tell me what it is."
"The little girl's arms moved upwards, she stretched them out, her manner beseeching although she remained mute. Theo tried again, told the child her own name.
"It's short for Theodora. I bet you're called something pretty."
The girl had a dress on; long, brownish, a course material - linen perhaps? Nothing special but if it was her party dress then maybe it was special to her. Her boots were brown too - lace ups, sturdy looking. She was around eight or nine but it was hard to tell. She could have been older just small for her age. Her hair was brown and tangled; she had a mane of it. Everything about her seemed to be brown or sepia, maybe sepia was the right word, as though she'd stepped out of an old photograph.
"I'm here now, sweetheart, I've come to help. You've been here for such a long time. Too long. You need to go to the light, go home, rest awhile."
Up closer, Theo could read her eyes. The longing in them stirred her pity.
"Let me help you," Theo persisted, her voice catching in her throat. As glorious as the other side might be, she still felt it unfair to be felled at such a young age. Often this was a good existence too and it deserved to be experienced fully.
She was close now, so close and still her arms were outstretched.
Harriet - the name presented itself whole in her mind.
"Your name's Harriet. Is that correct? It's lovely, it suits you."
Was that a smile on the child's lips, the beginnings of trust? Soon she'd be able to reach out and touch her. What would she feel like? Cold? Ethereal?
"Darling, I'm here," she repeated, no more than a foot between them. "I'm here."
Joy surged - one spirit had come forward - it was an encouraging start.
Just before their hands touched everything changed. Hope and joy were replaced with confusion as something sour - fetid almost - rose up, making her feel nauseous.
"Don't be afraid," Theo implored. Yet there was nothing but fear in her eyes now. No, not fear, that was too tame a word - terror.
"I'm not here to harm you," she continued. "I'm here to help."
As the words left her mouth, other hands appeared behind the child, a whole sea of them - disembodied hands that clawed at her, forcing her backwards.
"No!" Theo shouted. "Stop it. Leave her alone!"
But it was no use. Her words faded as the girl did. She'd been torn away,recaptured; the one who'd dared to step forward. Theo could feel sweat break out on her forehead, her hands were clammy. She clutched at her chest, her breathing difficult suddenly, laboured. Her heart had been problematic of late, a result of the pounds she'd piled on. She must go to the doctor to get some medication. Struggling to gain control, it took a few moments, perhaps a full minute, before her heart stopped hammering. And when it did, she remembered something else. The girl's eyes - her sweet, brown, trusting eyes - when the expression changed in them they hadn't been looking at her, they'd been looking beyond her. Was it at the thing that side swiped her? Theo couldn't be certain. She wasn't certain either if that 'thing' was a spirit or much less than that - something with no soul, but with an appetite, an extreme appetite: a craving. Something, she feared, was insatiable.
<<< EVE: A CHRISTMAS GHOST STORY >>>
UK:
http://tinyurl.com/nmnajss
US:
http://tinyurl.com/pe5f6db
<<< EVE: A CHRISTMAS GHOST STORY AUTHOR BIO >>>
Brighton-based author of paranormal fiction, including UK Amazon Best seller, Psychic Surveys Book One: The Haunting of Highdown Hall. Psychic Surveys Book Two: Rise to Me, is also available and due out in November 2015 is Eve: A Christmas Ghost Story - the prequel to the Psychic Surveys series. She is also the author of Jessamine, an atmospheric psychological romance set in the Highlands of Scotland and described as a 'Wuthering Heights for the 21st century.'
Psychic Surveys Book Three: 44 Gilmore Street is in progress.
All events in her books are inspired by true life and events.
Catch up with Shani via her website www.shanistruthers.com or on Facebook, Twitter and Goodreads.
Facebook Author Page:
http://tinyurl.com/p9yggq9
Twitter:
https://twitter.com/shani_struthers
Blog:
http://shanisite.wordpress.com
Goodreads:
http://tinyurl.com/mq25mav
Thanks Shani, It sounds wonderful and I'm delighted to learn its now available in paper.