PLEASE NOTE
: Whilst I endeavour to keep Media Monday family friendly some of the articles featured do have links to articles of a more adult nature. TT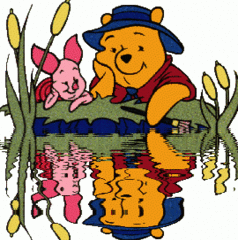 The reason why Christopher Robin always lost at Poohsticks has been revealed by engineers who claim that sticks 'stout, heavy and covered in bark' should have been used instead of 'skinny' sticks.
A linguistic expert has pointed out that a missing accent on a sign has changed Bhòid (meaning Bute) to 'Bod' (the Gaelic for penis) meaning that the first thing visitors to the island see is a big sign saying 'Welcome to Penis Island'.

Analysis carried out by The Telegraph has revealed that someone collecting lego could have earned almost three times as much as if they had invested in the stock market.
Not only does how you fasten your bra speak volumes apparently ....
According to a body language and behaviour expert the way you eat your pizza says a lot about your personality.
Which, a crust first kind of eater, means I'm 'pretty unusual, 'bold, different' and 'think outside the box'. What about you? TT

And as for the bookish news ....

According to research the ideal bedtime story should be 8.6 minutes long, feature a dragon, a fairy and a wizard and be set in a castle.