WARNING

: Whilst I endeavour to keep Media Monday family friendly I feel it only right to point out that some of the newspapers featured do have links to articles of a more adult theme. TT
Perhaps a bit more adult than my usual Monday offering but it made me laugh ....
With entrance to the London event charged by the inch
the UK is to host the world's first phallic festival for men with small penises.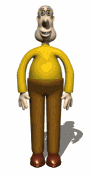 And in this weeks underpants related story ....
Blaming the purchase of cheap underpants that were too tight a Canadian MP hurriedly ran out of the House Of Commons during a vote.
And finally, the news from yesteryear ....
Think permanently scaring your child with an stupid name is a modern phenomenon? Try telling that to One Too Many Gouldstone (1870), Mineral Waters (Essex, 1892) or any of the others on this list from the 1800's.