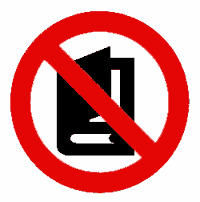 Having come across this post on Musing Of A Bookish Kitty's blog I couldn't help but think on the books I'll probably never read.
War And Peace. Whilst not against mammoth reads per se I'm almost scared by the thought of this one thousand plus page 1869 tome by Leo Tolstoy which, I'm led to believe, contains large sections which are more philosophical discussion than actual narrative.
The Land Of Painted Caves. A one-time fan of the author's Earth's Children series I'm afraid these novels by Jean Auel became so formulaic that I lost interest well before book five so this, the sixth, holds no appeal what so ever even if it is the last ever book in the series.
Watership Down. Never a fan of animal stories to begin with, I remember how my ten year old self felt her heart breaking listening to the 1978 song so I'm afraid Richard Adams' novel, along with other animal stories, is a no-go area as far as I'm concerned.
A Big Nowhere/LA Confidential/White Jazz. Books two to four in a series that began with The Black Dahlia, a novel by crime writer James Elroy that to quote my review I thought 'one of the most vile books I have ever had the misfortune to read, 'badly written and full of colloquiums I didn't understand'.
A Clockwork Orange by Anthony Burgess. Not a big fan of overly violent books, I'm totally put off by this book which, set in a near future English society, portrays a subculture of extreme youth violence.
E.L. James' Fifty Shades Of Grey/Fifty Shades Darker/Fifty Shades Freed. A prude (there I've said it) when it comes to explicit sex scenes, but even more off-putting for me is the books reputation as a badly written piece of literature.
The first book I can personally remember people calling to be banned. A huge Elvis fan as a girl I can remember the controversy surrounding the publication of Albert Goldman's Elvis and vowing that whilst people were indeed entitled to read what they wished I for one wouldn't be reading this.
What about you, what books, if any, can't you see yourself reading?