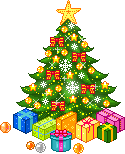 Gobsmacked by the thought that not only has my mam finished her Christmas shopping but already has her presents wrapped. Fed up of asking people not to mention the 'C' word, of explaining that its not that I don't enjoy Christmas - I do just not in November and CERTAINLY not in September which is when my mam first started to 'panic' about it.
Which I guess makes me a bit of a hypocrite as I was super excited to read of this years Christmas Spirit Reading Challenge hosted as always by our hostest with the mostest Michelle. Details and sign-up HERE.
Running from the 22nd of November through to Twelfth Night, January 6th. Whilst I cannot promise there will be much 'Fa La La La' going on (Intrigued? You'll have to stop by Michelle's place) I'm hoping to reach the 'Christmas Tree' and, Plum and Elf willing, have 'Visions of Sugar Plums'.
Please note
All original content on
http://pettywitter.blogspot.co.uk/
is created by the website owner, including but not limited to text, design, code, images, photographs and videos are considered to be the Intellectual Property of the website owner, whether copyrighted or not, and are protected by DMCA Protection Services using the Digital Millennium Copyright Act Title 17 Chapter 512 (c)(3). Reproduction or re-publication of this content is prohibited without permission.
In addition I would also urge that if you are reading this on any other page you contact the original blog owner/reviewer.